Neil Giuliano
ASU MLK Community Servant-Leadership Award recipient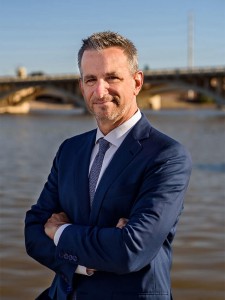 Neil Giuliano, former mayor of Tempe, is the 2020 ASU MLK Jr. Servant-Leadership awardee.
Giuliano has been the driving force for many changes in Tempe since 1990, when he first became a city councilmember. From 1994-2004, Giuliano served as the youngest and first gay mayor of Tempe. During his time as mayor, Tempe was named an All-American City. Implementations included the regional light rail, the creation of Tempe Town Lake and The Tempe Performing Arts Center. He is now the president and CEO of Greater Phoenix Leadership, which works to create a safe and prosperous community.
At ASU, he served as director of federal relations and as co-director of the 2004 presidential debate between President George Bush and Senator John Kerry. He left his lasting legacy by teaching a Personal Leadership Development class for 20 years.
On a national level, Giuliano served as an activist for the LGBTQ community. He was the CEO of San Francisco AIDS Foundation, one of the largest AIDS service organizations in the world. He served as president of the Gay and Lesbian Alliance Against Defamation and executive producer of GLAAD Media Awards from 2005-2009. At GLAAD, the third largest LGBT advocacy organization in the US, he expanded the organization's media and anti-defamation work to include religious and faith-based communities, sports and advertising media.
Giuliano has dedicated his life to creating a better community, not only for the future, but for today.
"We need to challenge and support young people to be leaders today, not wait for tomorrow," Giuliano said. "Find what's important to you, find what you value and go make a statement."
Oscar Hernandez Ortiz
ASU MLK Student Servant-Leadership Award recipient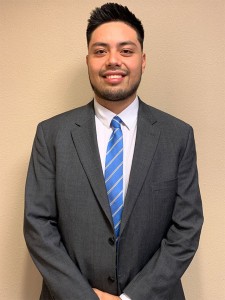 Oscar Hernandez Ortiz, a graduate student studying elementary education and fifth grade teacher, is the ASU MLK Jr. Student Servant-Leadership awardee.
Hernandez Ortiz moved to Arizona from Mexico when he was nine. He didn't know if college was an option.
During his senior year of high school, he was introduced to the Arizona Dream Act Coalition, which assists students in applying for the Deferred Action for Childhood Arrivals program, or DACA. The process was eye-opening, and Hernandez thought more students should know about it. This realization in 2013 thrust him into a career in advocacy work. He came to ASU to receive an undergraduate degree in public policy. In 2016, he created an organization called Undocumented Students for Educational Equity at ASU, where undocumented students can receive the support and resources they need.
Since then, he interned at the State House of Representatives, began teaching a fifth-grade class, was appointed to the Education Department of Education Latinx Advisory Board, and many other achievements.
After completing his master's in education, Hernandez Ortiz, 23, plans to go to law school to fight for civil rights and education law in Arizona.
"Being a public leader is not about pushing a certain agenda, but it's about being a role model," Hernandez Ortiz said. "You want to be a role model for people so they can be a part of a movement and become leaders themselves."
Oscar Hernandez's speech at the 2020 Dr. Martin Luther King, Jr. Breakfast Celebration
Hello everyone! First of all, I want to say that I am really happy to see all these young students participating today and I would like to extend my gratitude to Arizona State University and all of the schools and teachers for putting on an event like this one, it really shows their commitment to community.
I have to say it is an amazing feeling to be here, to be part of a day celebrating the legacy of Dr. Martin Luther King Jr, the civil rights movement, and a day to remember that even in this nation there are many injustices we still need to challenge.
I believe having this opportunity is such a beautiful honor because I could've never imagined being here about 4 years ago. Back then I was finishing community college and transferring to ASU. I actually remember being really scared to transfer. Don't get me wrong, I was really excited to be part of something bigger than myself, but I was really intimidated because I had to face a challenge I did not had anticipated.
Being an immigrant in this state in the last two decades has not been welcoming to say the least. And I reached a point where I needed to think about my higher education. I soon learned the that were laws put in place that vanished just about any opportunity for tens of thousands of undocumented students like myself to seek college. I of course was shocked and felt hopeless, but what hurt the most was that I was forced to feel ashamed of who I am.
However this injustice I felt, I couldn't simply ignore. I wanted to do something about it. This led to me essentially looking for ways to get involved. Not only did I get involved on campus, but also within my communities. With some research I was able to identify local organizations where I began to volunteer and refine my leadership skills. Next thing you know you begin to appreciate and love things like community, education, and the welfare of others.
I am really grateful for that because I transitioned away from a self-destructive mentality and instead became proud of who I am. I am proud that I did not allow others to use my identity as my weakness, instead I used it as my strength. Since then I've been able to meet and work with amazing people.
One of my biggest accomplishments at ASU was to work with other undocumented youth to start an organization to help other like us overcome barriers and to become leaders that will stand up against injustice when they see it.
Since then life has been a wild ride, but I really wouldn't have it any other way.
I think Dr. Martin Luther King Jr teaches us an incredibly important lesson. "The time is always right to do what is right," when we commit to making the right decisions, for ourselves and for those around us, our opportunities become endless.
I got here because I believe we can stand by what we believe at all time.
I challenge you to make your opportunities endless as well. Thank you.