Teniqua Broughton
ASU MLK Community Servant-Leadership Award recipient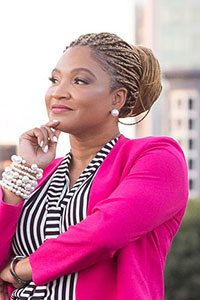 Teniqua Broughton, the founder and CEO of VerveSimone Consulting, is the ASU MLK Jr. Servant-Leadership awardee.
Broughton has been a champion of arts education for two decades, with roles at ASU Gammage, Free Arts of Arizona and more, before founding VerveSimone in 2013. In her consulting role, Broughton supports nonprofits in the areas of arts, culture, social services and education.
Broughton, an ASU alumna who earned her bachelor's degree in interdisciplinary studies in educational psychology with an emphasis in theatre for youth, found her first job at ASU Gammage as a cultural participation manager after working as a counselor for the theater's Camp Broadway program. At ASU Gammage, Broughton worked with Journey Home, an intensive four-week program for women incarcerated at the Maricopa County Estrella Jail, as well as helping teachers with arts integration strategies.
Broughton also serves as the executive director of The State of Black Arizona, a nonprofit organization that runs leadership programs and produces data on African Americans in the state.
"I just think that you should travel down life doing right because it's the thing you should do," Broughton said. "I don't look for an award. The things that I do with the programs that I do are the things that I love, the things that I get excited about, the things that makes me happy."
Simone Bayfield
ASU MLK Student Servant-Leadership Award recipient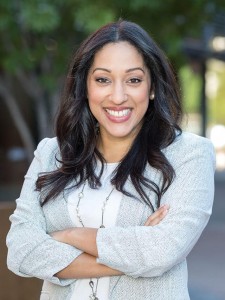 Simone Bayfield, a graduate student pursuing her master of business administration (MBA), is the ASU MLK Jr. Student Servant-Leadership awardee.
After graduating from Johnson C. Smith University, an HBCU in Charlotte, North Carolina, Bayfield moved back to Los Angeles where she decided to follow her dreams and go to cosmetology school. During her schooling, Bayfield offered her services to residents at women's shelters and homeless shelters across the city, helping women – many of whom were victims of domestic violence – look and feel their best.
At ASU, Bayfield has co-founded Accelerated Leadership for Underrepresented Minorities (ALUM), a student organization that serves as a pipeline for students-of-color to move into high-power positions in the business world.
After graduating in May, Bayfield will pursue a career in marketing at a company where she can make a difference.
"That's what the purpose of a leader really is, is to not be the one who's necessarily the face of an organization, or the person with the most power or the most money, but it's about who's helping make the biggest change," Bayfield said."So, to me that servant-leadership is really a leader who stays embodied in knowing that they're there to work for the people they serve, not the other way around."