Chef Silvana Salcido Esparza
ASU MLK Community Servant-Leadership Award recipient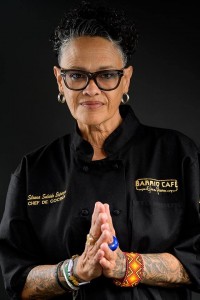 With a personal mission to elevate popular perceptions of Mexican culture, Chef Silvana Salcido Esparza represent her heritage and community through both her food and activism. Born into a long line of cooks and bakers, Esparza mastered her craft through cooking with her grandmother and working alongside her parents in their family bakeries. In 2002, Esparza opened Barrio Café, a restaurant located in Phoenix, known for its award-winning authentic Mexican cuisine.
As an outspoken civil-rights advocate and someone who wishes to see her community flourish, Esparza's work extends past the kitchen. In response to SB1070, Esparza created Calle 16, an organization of both artist and concerned citizens coming together to liven the City of Phoenix and celebrate Mexican culture through the power of art. And during the height of the pandemic, Esparza and other local chefs cooked meals for healthcare workers and those in need.
Esparza firmly stands behind her beliefs, utilizing her culture and upbringing to brighten her community for younger generations. Today, she continues to fight for civil-rights issues and to make Phoenix a better place to live, work and eat.
Roicia Banks
ASU MLK Student Servant-Leadership Award recipient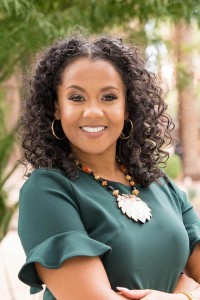 Having faced many hardships early on in life from being both a black and indigenous woman to growing up in foster care and being adopted by her late Hopi mother, Roicia Banks is the definition of a strong and resilient servant leader. Roicia is a first-generation graduate, having earned a bachelor's degree in both African & African American Studies and Political Science at ASU. She then received her Master's in social work from the University of Houston. This education and ten years' experience as a social worker for state and tribal government inspired Roicia to make a bigger impact. In 2018, Roicia became owner and founder of Social Roots LLC, a business that focuses on the improvement of African American and Indigenous communities; providing a rage of social work services and programs to help those who have experienced trauma. Roicia's work not only preserves families but ensures that both children and adults have the resources needed to prosper in a healthy environment and community. Roicia plans to continue her work at Social Roots LLC and is currently working towards her Master of Legal Studies with an emphasis in Indigenous legal law.
Ivan Quintana
ASU MLK Student Servant-Leadership Award recipient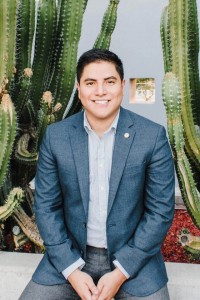 Born and raised in a small town in Northern Mexico by parents who completed the equivalent of a middle school education, Ivan Quintana moved to the U.S. at the age of 18 to fulfill the dreams and aspirations of not only himself, but his family.
After experiencing the challenges that come with being a first-generation and low-income college student, Ivan knew he wanted to help others in similar situations; believing that education is one of the greatest equalizers and opportunities for people to break generational poverty. While still in school himself, Ivan has worked endlessly to help others achieve their dreams.
From being a college completion Ambassador for AmeriCorps' Arizona Ready for College & Career program, where he helped high school students apply for FASFA and college to virtually tutoring a third grader from Los Angeles in order to improve their reading skills during the Pandemic, Ivan perfectly demonstrates the qualities of a selfless and servant leader.
Ivan is expected to graduate this spring with a double major in criminal justice & criminology and public service & public policy. He plans to attend law school in order to advance educational polices at both a state and federal level.
Good Morning, Buenos Dias:
Chair Colleen Jennings-Roggensack, Members of the ASU Martin Luther King, Jr. Committee, Dr. Neal Lester, State Representative, Chef Silvana and our esteemed guests:
I am very honored to receive the ASU Martin Luther King, Jr. Student Servant-Leadership Award, along with the resilient and transformative leader that is Roicia Banks.
I have spent a lot of time reflecting on the significance of earning this award, and I am elated to be the recipient of this honor. However, I have also spent a great deal of time wondering if my character aligns with that of Dr. Martin Luther King, Jr. As someone who is only twenty-four years old, I have a lot of wisdom to earn. Let's be honest, there are also a lot of mistakes that I will make as a human being. I looked for guidance in Dr King's words, and discovered that in his 1964 Nobel Peace Prize speech, Dr. King pointed out was accepting this prize at a time where the fight for Civil Rights was still ongoing. I can draw a thin parallel between this feeling and mine, that there is a lot of learning, life to experience, and hopefully continue improving the lives of others through service. While collectively we are still working to make Dr. King's vision a reality, we are individually going through the transformational journey to make that happen.
Reflecting on this year's focus on inclusion, I pondered about what my definition of inclusion is. For me it is not only making sure that everyone has a seat and voice at the table. For me inclusion is rooted in empathy. I remember a time last year in March I was buying groceries and in line to pay when I saw that the gentleman in front of me was paying for a lot of food. I politely asked him if he was celebrating anything, and he replied that he was going to celebrate his wife's birthday, just him and his kids. He explained that the pandemic had been hard for his family, and that the recent government stimulus payment allowed him to get back to his feet. And like many of us, we all wanted to celebrate something during such a tumultuous time. After he left I could not help but think that I hoped to devote my life to help families like his have more reasons to celebrate, and not have to rely on government assistance to do so. That I wanted them to experience the same joys and blessings that my family has been able to enjoy.
As I reflected on this interaction, I realized that it occurred with someone who looked like me, we spoke our native tongue (Spanish), and that it was at a Ranch Market. (Because where else can you enjoy a delicious horchata while grocery shopping)
The truth is that the inclusion and empathy that Dr. King practiced has set a much higher standard, where we have to challenge ourselves, to include people that not only look like us, but those that may be against us. Hendrick Hertzberg wrote an anecdote in which When Dr. King was unjustly imprisoned in Birmingham, he took the time to speak to the segregationist white jail guards, and he had a conversation about their salaries, where they lived, and if they could afford to send their kids to school. After discovering how impoverished they were, he replied: "You know what? You should be marching with us?
In today's day and age where the world is so divided, where elected officials cannot be talking to one another, and we avoid inviting certain relatives to our holiday dinners. How often do we have an inner circle at work? Only make friends with people that we feel comfortable with? And think to deny others the privileges and benefits that we have enjoyed? Dr. King and the leaders of the movement gave us a blueprint that must be followed today, that love and empathy is the light that binds each and everyone of us, and all human beings are worthy of dignity and redemption.
Last night as I was preparing for today, I saw the news that the voting rights bill was not passed. A stern reminder that the democracy that Dr. King fought so hard for is still under attack. The same democracy that I have enjoyed, and hope that my niece and nephew enjoy.
While this news alarmed me, I found solace knowing that today I would be surrounded by bright human beings, who just like you've seen light in me, and see the light in others. People who are building the leaders of tomorrow, to carry on Dr. King's dream.
I'll close with a quote from late Congressman John Lewis which is found at the entrance of the National Center for Civil and Human Rights.
"You are light. You are light. Never Let Anyone- Any Person or any force- dampen,dim, or diminish your light… Release the need to hate, to harbor division, and the enticement of revenge. Release all bitterness. Hold only love. Only peace in your heart. Knowing that the battle of good to overcome evil has been already won".
Dr. Neal Lester
ASU MLK Faculty Servant-Leadership Award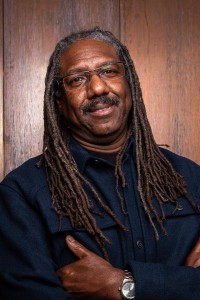 Credit: Deanna Dent
Neal A. Lester, PhD, is Foundation Professor of English and Founding Director of the multiple award-winning Project Humanities initiative at Arizona State University. With expertise in African American literature and culture, Dr. Lester has authored or edited seven books and myriad essays and chapters on topics ranging from the race and gender politics of hair, Black masculinities, and African American folklore, to Toni Morrison's children's books. In addition to his publications on ntozake shange, Alice Walker, Sapphire, and Zora Neale Hurston, Dr. Lester has done pioneering work on the Nword, having created and taught the first college course on the Nword in the US. His expertise on cultural appropriation, on everyday lessons in privilege and bias, and on humanities and entrepreneurship is nationally and internationally recognized. His expertise has led to interviews on CNN, USA Today, Good Morning America, The Special Report with Reva Martin, and The Chronicle of Higher Education. He has lectured in Ghana, Pakistan, China, Mexico, Italy, and Korea. Also an award-winning teacher and popular radio guest, moderator, and panelist, Dr. Lester is editor of a forthcoming collection on global social justice, to be published in 2023 by the Modern Language Association, and guest editor of the special issue of Humanities on the topic of "African American Children's Literature." In January 2022, Dr. Lester with receive Arizona State University's inaugural Dr. Martin Luther King, Jr. Servant-Leadership Faculty Award, an accolade that follows other such MLK recognitions from the City of Tempe (AZ), the City of Phoenix (AZ), the City of Paradise Valley (AZ).
"Renewing Our Faith in and Reclaiming Our Humanity"
Inaugural MLK Servant-Leadership ASU Faculty Award
20 January 2022
 "Are we losing our humanity?" is a question I find myself asking a lot as I pay attention to what's happening in the world—those 24/7 cycles of news headlines and news stories that don't always show humans at our moral or ethical best. So often I am overwhelmed, disappointed, and exhausted; trying to address and stay aware of so many injustices, so many inequalities, and so many inequities locally, nationally, and globally that hijack my attention and threaten to drain my emotional and spiritual energy.
As an African American literature and culture teacher and scholar, I take refuge and find challenge for my weariness in these words by author Toni Morrison whose 2011 Rutgers University Commencement Address underscores this specifically complicated US history of contradiction that for me is yet another example of how the past is the present, the personal is political, and the political is professional:
I have often wished that Jefferson had not used that phrase, 'the pursuit of happiness,' as the third right—although I understand in the first draft was 'life, liberty and the pursuit of property.' Of course, I would have been one of those properties one had the right to pursue, so I suppose happiness is an ethical improvement over a life devoted to the acquisition of land; acquisition of resources; acquisition of slaves. Still, I would rather he had written life, liberty and the pursuit of meaningfulness or integrity or truth.
On this occasion of celebrating and reflecting on the life and legacy of the Reverend Dr. Martin Luther King, Jr., I am continually trying to respond to his clarion call for "meaningfulness, integrity, and truth" framed appropriately as justice, peace, equity, social transformation, and a reclamation of our individual and shared humanity. In Dr. King's 1967 speech, "The Other America," he connects social justice with humanity:
Social progress never rolls in on the wheels of inevitability. It comes through the tireless efforts and the persistent work of dedicated individuals. And without this hard work, time itself becomes an ally of the primitive forces of social stagnation. And so, we must help time, and we must realize that the time is always right to do right. Large segments of … society are more concerned about tranquility and the status quo than about justice, equality and humanity.
For me, this annual Martin Luther King holiday and this recognition from my ASU community is but another opportunity to be better by doing better. For me, doing and being better is being mindful of living and practicing these values that Project Humanities calls Humanity 101: respect, integrity, compassion, forgiveness, empathy, kindness and self-reflection. This is not a course but rather a series of strategies and activities that center these simultaneous faith-based and secular values. We see these values as the basis of any and all success, and true success is always a collaboration.
In that Commencement address at Rutgers that I mentioned earlier, Morrison addresses an individual's "pursuit of happiness." To those graduates then–and by extension to all of us here now under the sound of my voice–she admonishes:
I know that happiness [is a] real, if covert, goal of your labors here. I know that it informs your choice of companions, the profession you will enter, but I urge you, please don't settle for happiness. It's not good enough. Of course, you deserve it. But if that is all you have in mind—happiness—I want to suggest to you that personal success devoid of meaningfulness, free of a steady commitment to social justice, that's more than a barren life, it is a trivial one. It's looking good instead of doing good.
This, for me, is Dr. King's dream; a bold indictment of individual and communal complacency and non-activity—of performative allyship–in the face of sustained social ills. Indeed, as Dr. King contends, "An individual has not started living until that individual rises above the narrow confines of their individualistic concerns to the broader concerns of all humanity."  I, too, follow Dr. King's lead and accept this award as a challenge to continue working to create a world where more and more folks are committed to and committing to disrupting the status quo and in so doing, acknowledging that at the core of any and all diversity, equity, and justice work is humanity—yours and mine.
Thank you, ASU MLK Celebration Committee, and Martine Garcia, my nominator—I have since learned—for this recognition of the work so many of us are doing together.
Marcelino Quiñonez
ASU MLK Staff Servant-Leadership Award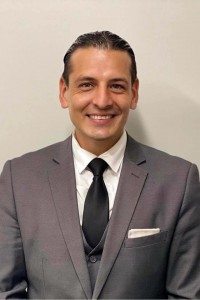 Credit: Deanna Dent
Marcelino Quiñonez is an educator, nonprofit leader, and artist currently serving as Legislative District 27 State Representative. He earned his B.A. and MFA in Theatre from Arizona State University. Marcelino has taught high school English and Drama at Espiritu NFL YET and Arizona School for the Arts, and as an adjunct theatre professor at Arizona State University and South Mountain Community College. His play "El Che" was published as part of an anthology titled "Latina/o Heritage on Stage: Dramatizing Heroes and Legends" and his other play "Dear Senator" was a joint artistic collaboration with former Arizona Attorney General Grant Woods. Marcelino has earned various awards and recognitions for his artistic and social activism efforts, including appearing on the cover of TIME Magazine in 2012. He has served as Director of Youth Outreach at St Vincent de Paul and Director of Educational Outreach and Partnerships for Arizona State University. Marcelino was elected to serve on the Roosevelt School District Governing Board from 2012-16 and currently serves on the Board of Directors for St Vincent de Paul, the Latino Council for St Jude Children's Hospital, and Childsplay Theatre. He lives in south Phoenix with his thirteen-year-old daughter, Mia Quiñonez.
Thank you all for being here. Being recognized as the 2022 Dr Martin Luther King, Dr Staff Servant-Leadership Award brings me great joy. I am honored.
Let me begin by thanking Colleen Jennings-Roggensack for being such a vibrant, inspiring, and effective leader in our university, for artists across the country, and for serving as chair of the ASU Dr. Martin Luther King, Jr. Celebration.
Martine Garcia, mi hermano and lifelong colleague, thank you for nominating me.
Dr Neal Lester, Chef Silvana Salcido Esparza, Roicia Banks, Ivan Quintana, congratulations on your recognition. I am honored to have my name uttered in the same breath as yours.
To the entire ASU Dr. Martin Luther King, Jr. Celebration Committee, thank you for your work expanding Dr King's legacy.
To my Tia Angela Giron, thank you for your love and constant support.
I would not be standing here today with the support of my ASU colleagues at Access ASU, a department within ASU's Educational Outreach and Student Services Department led by Dr James Rund. Thank you my leadership Dr. Sylvia Symonds, Lorenzo Chavez; soon be Dr Lorenzo Chavez, Marcela Lopez, and Dr Sharon Smith. Access ASU is committed to helping create the next generation of college-going students through intentional programming. To my direct team, thank you for your faith and commitment to our efforts. I am certain community outreach, SPARKS, the Educational Outreach Scholars program, DREAMzone, and Access ASU Summer Programs will continue to make an incredible difference in our communities because of you. Access ASU | Arizona State University
On August 28, 1963, Dr Martin Luther King Jr, a minister from Ebenezer Baptist Church in Atlanta, stood before the Lincoln Memorial to cash a check the United States had written on behalf of the Black and African American community. The check was for equal rights under the US Constitution and a protection of voting rights for eligible voters in the country. In making his remarks, he shared with us all a Dream of having everyone being judged by the content of their character and not the color of their skin.
Dr King dedicated his entire existence to the realization of that Dream, and a night before he was assassinated he told us he might not get to see in person his dream fulfilled, but that did not matter. He had already been to the mountain top and his faith in all of us to carry out his dream was unwavering. He believed in our ability to care for the poor, to advocate for justice, and to ensure democracy's most sacred task, every day citizens having their voices heard by voting would one day happen.
My favorite Dr King quote is, "The moral arc of the universe is long, but it bends towards justice." President Obama had the same quote on the tapestry in the Oval Office during his administration. I believe all of us can work together by thinking of others and putting someone else's needs before our own ambitions. And when necessary I believe as Dr King's most loyal disciple said, the late and great Congressman John Lewis, sometimes it's important to get into good trouble.