Dr. Peterson Zah
ASU MLK Community Servant-Leadership Award recipient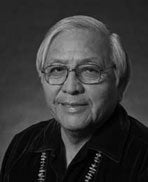 Peterson Zah, former president of the Navajo Nation, has continued to work as a senior statesman among Native Americans and is considered one of the 100 most important Native Americans in the last century. He has been a key leader in bringing students from tribal communities to ASU and helping them succeed.
As an adviser to the ASU president for 14 years, he has helped double the Native American student population, traveling to remote villages to talk to families about ASU and the importance of education. He helped create ASU's Native American Achievement Program, a partnership with tribes to provide scholarships, mentoring and advising to students.
Born in 1937 on the Navajo Reservation, Zah left his home and family as a teenager to attend Phoenix Indian School, earning a bachelor's degree from ASU 10 years later. He returned to his homeland as a vocational educator and later directed a nonprofit legal services program.
Zah became chairman of the Navajo Tribal Council in 1982, leading the movement to restructure and modernize their governmental system from a council to a nation. He was elected the first president of the Navajo Nation in 1990.
Throughout his career he has made education his first priority, and he has worked for 30 years to defend the interests of all Native American people. Largely because of his intense focus on education, the Navajos have made great progress toward achieving their goal of an enhanced and sustainable future. Three years ago he received a lifetime achievement award from the National Indian Education Association.
Today students can be found in his office asking for his advice, finding encouragement and help. He was chosen Graduate Mentor of the Year by the ASU graduate student body four years ago. Zah continues to inspire all ASU students to reach their highest potential.
Kelley Stewart
ASU MLK Student Servant-Leadership Award recipient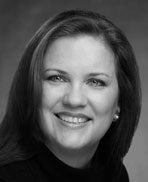 Kelley Stewart, a senior dual majoring in applied psychology and multimedia writing and technical communication at the ASU Polytechnic campus, has personally invigorated student life at the campus through her commitment to community service and her leadership example. She has made a mark wherever she has been.
After working for several years for retail and automotive businesses—where she quickly rose to management—Kelley went another direction, earning her associate's degree from Mesa Community College in 2004 and enrolling at ASU. Meanwhile she continued to work as a community response volunteer for the Mesa Fire Department, providing grief support and family advocacy and training other volunteers. She completed two 900-hour term commitments to AmeriCorps.
At ASU she helped organize a career fair, led a student health council and became a student senator, serving on many committees that helped energize student life. Meanwhile she continued to volunteer for the fire department, led a youth group at her church and worked with the Girl Scouts. This year she is president of the Associated Students at the Polytechnic campus.
For the last four years, Kelley also has played a pivotal role in the success of the American Cancer Society's Relay for Life East Mesa event hosted by ASU Polytechnic. This 20-hour event annually raises more than $100,000, hosts about 2,500 participants and requires more than 100 volunteers. It is Kelley's ability to encourage others to get involved in community service that has helped the event succeed.
She fosters a spirit of cooperation among the volunteers, many of them junior high and high school students, and encourages them to take leadership roles in the planning and the execution of tasks. She also has expanded the number of volunteers at the Mesa Fire Department.
Kelley's energy, commitment and selfless leadership make her an ideal recipient of the ASU 2008 Student Servant-Leadership Award.