The Victory Together coalition
ASU MLK Community Servant-Leadership Award recipient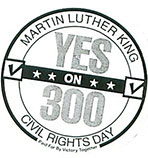 The Victory Together coalition, spearheaded by a diverse group of community and business leaders in Phoenix and Tucson, recognized the importance of the life and work of Dr. Martin Luther King, Jr. and joined forces in the effort to set aside a day in honor of his memory. The coalition organized supporters and registered 75,000 voters. In November 1992, 61% of Arizona voters provided the support needed to approve the Martin Luther King, Jr./Civil Rights Day. The people of Arizona continue to benefit from the groundbreaking work of Victory Together.
Gabriel Cesar
ASU MLK Student Servant-Leadership Award recipient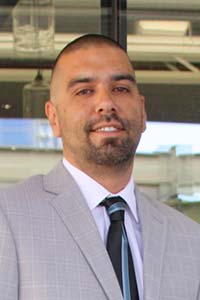 Gabriel Cesar, a doctoral student in the School of Criminology and Criminal Justice at Arizona State University, has been awarded the 2014 Martin Luther King, Jr. Student-Leadership Award for his active work with foster children in the Free Arts of Arizona program.
The Detroit native was raised by his grandfather, a union worker, who helped him to understand the sometimes-harsh reality of life from a very early age.
"He would bring me with him to the bars and ball games," Cesar said. "There were people from all different backgrounds and races. It exposed to me a lot, but he was honest with me and contextualized it in a way that I could understand. The most important thing he would instill in me was that you take care of the people around you."
Cesar transferred to ASU after earning an associate's degree from Henry Ford Community College and completing two years of his bachelor's degree at Wayne State University.
"Wayne State gave me good practice-based learning. The courses were taught by cops, so we had interrogation classes and learned all about the consent decree. ASU has a very strong theoretical program that has empowered me to learn about the social process. We're also strongly encouraged to get involved in functional research," he said.
As a master's student at ASU, Cesar wanted to step out of the box and focus on qualitative research that looks at social learning among young people who are aging out of the Child Protective Services system. Mentor Travis Pratt, a criminology and criminal justice professor, was supportive of the bold move that went against the quantitative type of research normally completed by students.
"He said that he doesn't know how to measure it, but he would know if it sucked. I've always had strong ideas and that has never been feared or discouraged here," said Cesar.
The research didn't quite go as he planned though. His intent was to learn about the children's role models and who they modeled their behavior after, in order to find factors that would determine whether they transition into successful adults. But the children he worked with reported they didn't have anyone to look up to; rather than role models, what mattered to them was having a stable place to go when they phase out and a way to pay their bills.
Like any good researcher, Cesar adjusted his research, but the experience stuck with him. Heeding his grandfather's teachings, he began volunteering with Free Arts of Arizona, a nonprofit organization that provides an artistic outlet for youth in the foster care system.
"When you're a kid in the system, no one is uniquely interested in you," he said. "You're in a group home with 10 to 12 other kids. No one is making you go to school or is in charge of your well-being. The caseworkers try their best, but it isn't always enough."
To combat this, he spends what little free time he has making sure they stay on track toward getting their high school diploma and college education. He even brought a group of mentees to his Hispanic Convocation when he earned his master's degree from the School of Criminology and Criminal Justice.
"I wanted to take them to campus to meet the faculty here to see what's possible. They make jokes about being Hispanic and poor, so when you take them to convocation they can see all of these Hispanic people who are successful. There's no excuse," he said.
Cesar also uses his own experiences to relate to them. He teaches them the importance of taking both positive and negative experiences and turning them into lessons that will shape them into adults.
"We forget that everyone on some level is just a scared kid like them. We all just want someone to take care of us. Free Arts has been great with letting me grow into the mentor inside of me," he said.
Next on his plate is completing his dissertation that focuses on the implementation and funding of programs to better care for students in CPS like Free Arts. Cesar says he eventually would like to return to Michigan to help the community that raised him.
Earning the MLK Leadership Award will allow Cesar to show faculty and students this type of research is emerging in the criminal justice field. And, of course, his grandfather will proudly be in attendance at the MLK Breakfast Celebration in January at the Downtown Phoenix campus.