UMOM New Day Centers
ASU MLK Community Servant-Leadership Award recipient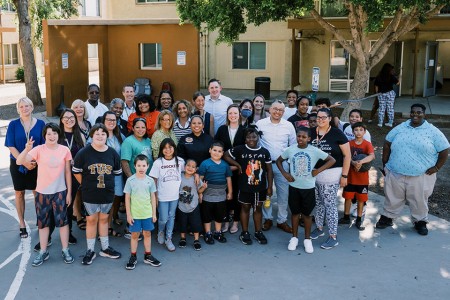 UMOM New Day Centers' mission is to end family homelessness by restoring hope and rebuilding lives. UMOM is a community provider of emergency shelter, supportive services, and affordable housing. Their programs are built around a simple formula: jobs + housing = ending homelessness. They work hand-in-hand with every person they serve to solve that formula alongside them. From emergency shelter to affordable housing, UMOM offers a full slate of vital services, rooted in a foundation of trust and proactive support. UMOM is Arizona's largest emergency family shelter and served over 16,000 people and provided over 550,000 meals in the community in the last year alone. They work to help people from all walks of life including families, single women and veterans and their families. Their goal for the future is to create more shelter space so families are not sleeping on the streets and to continue helping families get back to a life of stability. "One of the first steps in each of our journeys of advocacy revolves around listening and working with an open heart and we're committed to that. We fully embrace the philosophy and the belief that a diverse and inclusive workplace is among an organization's greatest strengths and we're constantly trying to get even better at it. – Jackson Fonder, CEO of UMOM New Day Centers
Good morning, everyone. Thank you so much for the kind introduction. We are humbled and honored to receive the ASU Martin Luther King, Jr. Award for Servant-Leadership. When I hear the term "Servant-Leadership" it conjures up a lot of different traits and characteristics. Listening, empathy, trust, commitment to personal growth, and collaboration, just to name a few. Above all, I believe that Servant-Leadership is a choice. Choosing to put others first is absolutely a choice. I get to see it every day with our employees at UMOM. Talented and passionate changemakers who are trying to end family homelessness by restoring hope and rebuilding lives. They do this by offering a full slate of services, from emergency shelter all the way to affordable housing. We believe that jobs + housing are what ends homelessness. And work side by side with everyone we serve to solve that formula, one family, one person at a time. That's why I love the theme for this morning's celebration: "Every Story Matters. What's Yours? When you're helping thousands of people who are vulnerable and struggling, it's important to remind yourself that each of them has their own story and taking the time to understand who they are, what they've been through, and how to help them, is critical. So let me share a story with you about just one family…Danielle and her two boys, Anthony, and Rodney. If you're a family experiencing homelessness, like Danielle, your first stop is our Family Housing Hub. It's the entry point to navigate the homelessness system. When Danielle arrived at the hub, she met Anna. Anna's been working with families for years and is a true UMOM servant leader who is incredible at building trust, showing empathy, and listening without judgement. She asked Danielle a lot of questions so that she could provide what's needed to help this family. Unfortunately, there's a waitlist to get into an emergency shelter. For the next 7 weeks, Danielle and her boys lived in their blue Chevy Malibu, moving from Walmart parking lot to parking lot every couple of days or so for safety reasons. Finally, almost two months later, Danielle moved into emergency shelter at UMOM. She parked her Malibu in the side parking lot and unloaded all her worldly goods into their room, where she stayed for almost 4 months. I say worldly goods…what I really mean is everything she could toss into garbage bags as fast as she could to outrun her abuser. Over the next few weeks, while Anthony and Rodney were in school, Danielle spent time at our employment center, working with two more servant leaders at UMOM, Fernandez and Stacy. They helped Danielle put together a resume, search for jobs, and prepare for interviews. They even got her signed up for an employment preparation class so that she could sharpen her skills and gain some confidence. She found a job as a marketing coordinator. To say that she was excited would be quite an understatement. But the work didn't end there. While the boys were spending time at our onsite Boys & Girls Club, Danielle worked with her case manager to find an apartment. Which, of course, is not easy in today's market, with rent prices skyrocketing. It seems like just yesterday that Phoenix was an affordable place to live. Not so much anymore. Fortunately, we work with a partner like HOM Inc who helped Danielle's case manager find a 2-bedroom apartment in Glendale that she can afford. Then, with the help of more servant leaders like AAron and his staff at the new UMOM warehouse and distribution center, we're able to provide a lot of household items so that Danielle's new apartment feels like a home. That's quite a journey for one family. Fifty-one days living out of a car and 119 days in an emergency shelter. A new job, a new apartment, and a new beginning. The family still has a long way to go, as they have experienced more trauma than many of us can understand. But she has hope. In this fight to end homelessness, sometimes it feels a bit overwhelming, stressful, and even frustrating. Thank goodness, we're not alone. In fact, we are surrounded by and collaborate with leaders like Mike Shore from HOM Inc., Amy Schwabenlender from the Human Services Campus, Sam Jackson from United Way, and Eric Sperling from STN TV. All these folks make the choice of putting others first. A lesson many of us learned from Dr. King. I don't know if there is a single leader anywhere or any time that represents servant-leadership more than Dr. King. Through his writings, speeches, and actions, he continues to inspire us, even after all these years. Thank you so much for recognizing UMOM. We are grateful for having the opportunity to work alongside community leaders, partners, and employees, who make the choice to deliver on servant-leadership every day. Thank you!
Juan Lopez Henao
ASU MLK Student Servant-Leadership Award recipient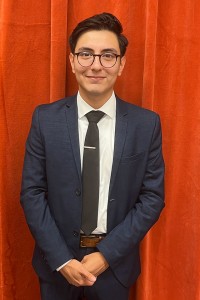 Juan Lopez Henao is a first-generation college student and a naturalized citizen who emigrated from Colombia. As soon as he was in a better situation to help others, he went straight back to the community that raised him to try to make a difference in the hearts of the next generation. 
In 2019, he started work on Project of Life and education outreach in Colombia, working with at-risk youth to pursue higher education and better quality of life. He's taken his mentorship with him to ASU and works with both international and first-year students on integrating into Sun Devil life while balancing academics.
Lopez Henao has been selected as the McCord Scholar in charge of planning and coordinating the community service events with local charities for 40 scholars through the 2022-2023 academic year.
He is currently a fourth year Political Science, Business Communications and Business Law student at ASU while simultaneously pursing a master's degree in Political Science through ASU's 4+1 program. He aspires to become an immigration lawyer for Hispanic communities to help immigrant families like his own come to the US.
"My family may not have always had much in terms of things in value but one thing we have always valued is our community. From a young age, I was taught that helping those around you is something that I should always aspire to do, essentially meaning that if I move forward in life, my community should move forward as well. I have never lost sight of this and ensure that service to my community will be the first thing on my mind."
Hi everyone, My name is Juan Lopez Henao. before I begin, I would like to give a big thank you to the MLK committee for this award and Dr. Hanson for nominating me, it truly means a lot. I would also like to give a big thank you to my parents, I do not think I would be here without them.
Now this year's theme is "every story matters, what's yours?". And to most people this is where my story ends. My name, what I'm studying and maybe where I'm from. But there is much more than that, and I would really like to talk about that today.
As an immigrant from Colombia, I quickly learned about the value and my passion for education. When I first arrived here to Arizona, I did not speak English and seeing this communication barrier I quickly realized I needed to learn. So I read, and I read more than most 7 year old's do. And in doing so I was able to learn English within 2 months. This truly was my first lesson about education and what I could accomplish with it.
After one year, my English had only gotten better, and my second-grade class had taken a field trip to the state capitol. I remember seeing the court rooms and seeing the house floor and I was in awe oof everything around me. I was the last one to leave the court room and when my teacher had asked me to catch up with the class, I asked her who worked here? And she said mostly lawyers, and I asked what do they do? And she said help others when they need it. I got home that day exhilarated to tell my mom of my new career choice and she was just as excited to tell me that one day I can do that and so much more.
Now, I'm still on the path to getting there, as I take the LSAT this coming Fall and embark on the journey to become a lawyer. This was a journey that is not just now starting but rather one that I have grown up seeing as I saw my parents trying to navigate our legal system for us to be able to become residents and later on citizens.
Later on, when I graduated high school, I got my first opportunity in an international setting. I had gone back to Colombia, and I wanted to do something more to help the community that I once had to leave when I was younger. Through this I was able to work on the projects that were mentioned earlier with the troubled youth in my community.
I loved this experience so much as I was able to talk about the importance of something I valued so much, but also help others in my community through these projects. When I got back and I started college here at ASU, I was eager to seek out opportunities that would give me the same chance to do this. I became a LEAD mentor and helped first year and first generation students see what they could accomplish in education, through what ASU had to offer. I was also able to teach an Introductory Business Course as a second year student and through this I could spread my passion for education to many first year students and help them see the importance for the academic journey they were just beginning. I was able to work with international students and refugees as well to help them learn English just like I did and ensure that they are able to academically succeed throughout their college career. All these opportunities were what allowed me to grow and enhance my goals and aspirations as I plan to continue doing these kinds of projects that allow me to help my community here at home and abroad.
Now, I would just like to end with one final thought. As we gather here in this celebration for Martin Luther King, I have always admired his passion for civil rights and ensuring that his community had access to the same rights as everyone. This passion he had was what lead him to help bring change to our communities, change that we can all benefit for and are thankful for today.
So, If I can leave you all with just one thought today, through my story and the teachings of Dr. King, I hope that you are able to see that through your passions and interests, there is always a way to help your community around you.
Bryan McKinley Jones Brayboy (Lumbee)
ASU MLK Faculty Servant-Leadership Award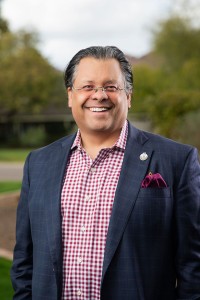 Bryan McKinley Jones Brayboy (Lumbee) is President's Professor in the School of Social Transformation at Arizona State University. At ASU, he is Vice-President of Social Advancement, senior advisor to the president, director of the Center for Indian Education, and co-editor of the Journal of American Indian Education. From 2007 to 2012, he was visiting President's Professor of Indigenous education at the University of Alaska Fairbanks.
His scholarship is at the intersections of education, Indigenous Studies, law, and policy where he explores the ways that Indigenous Knowledge Systems engage and are engaged by institutions of higher education. He has published over 105 scholarly documents, and his scholarship and programming efforts have been funded by the National Science Foundation, the U.S. Department of Education, the Ford, Mellon, Spencer, and Kellogg Foundations.
He has been a visiting and noted scholar in Australia, Canada and New Zealand. He is a fellow of the American Educational Research Association and a member of the National Academy of Education.